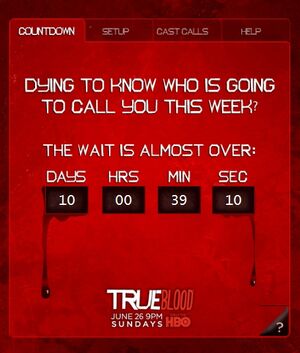 OMG Trubies! Here's another fun interactive app for true Trubies who know that #waitingsucks and just can't wait any longer! Now, you can get a weekly reminder from your favorite cast member (cast your votes!) if you set it up on Bloodline on True Blood's official Facebook page!
Will you be trying it out? Who would you want to get a call from!?
And don't forget to enter our True Blood tagline contest! You could win all three seasons of vampy goodness!
Enter Now
Ad blocker interference detected!
Wikia is a free-to-use site that makes money from advertising. We have a modified experience for viewers using ad blockers

Wikia is not accessible if you've made further modifications. Remove the custom ad blocker rule(s) and the page will load as expected.