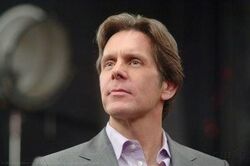 Have you seen the first three minutes of True Blood Season 4 yet? If you haven't, you're missing out Trubies!
In the second half of the clip, as the other fairy-humans munch on a sinister, glowing fruit, Sookie recognizes a figure from her past...her grandfather, Earl Stackhouse! Sookie's grandfather is played by none other than Gary Cole, of Entourage and Chuck!
Since the news that Gary Cole would play Sookie's grandfather was quite recent, it was a shock to see him in fairyland safe and sound...with nary a memory of the past 20 years! Where has he been? And why doesn't he remember?
Speculate away, Trubies!
Kate.moon 18:48, June 1, 2011 (UTC)
Ad blocker interference detected!
Wikia is a free-to-use site that makes money from advertising. We have a modified experience for viewers using ad blockers

Wikia is not accessible if you've made further modifications. Remove the custom ad blocker rule(s) and the page will load as expected.