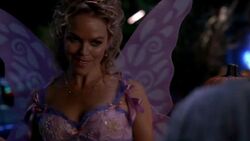 Although True Blood finale will air in September, the True Blood crew is planning a festive Halloween-themed finale! It looks like most people have survived the bombing of Moon Goddess Emporium but have bigger surprises in store during "Samhain," when the veil between the living and the dead are the thinnest.
Will this give the witches an edge? What does this mean for vampires...since they are technically also dead? Watch the intriguing clip below...if only for Bill and Eric chained together! Guess Nan really might follow through with her True Death sentences!
Be sure to join us for the finale party on September 11!
Video
Source
Ad blocker interference detected!
Wikia is a free-to-use site that makes money from advertising. We have a modified experience for viewers using ad blockers

Wikia is not accessible if you've made further modifications. Remove the custom ad blocker rule(s) and the page will load as expected.