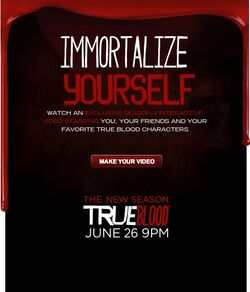 Hey Trubies! Just an hour ago @truebloodhbo, the official True Blood Twitter posted this AWESOME interactive True Blood video. It's available on the True Blood Facebook page and it pulls your basic information (name, picture, location) to include you in a real True Blood clip! It also takes the names and pictures of several of your friends to include them in various parts of the video.
The highlight of the clip? Eric Northman called AND skyped me! That alone should be enough to make you try this amazingly fun app! Save and share with your friends via Twitter and Facebook! We'll have updates for you on our very own True Blood Facebook (http://www.facebook.com/TrueBloodWiki) and Twitter (@TrueBloodWiki) so follow us and check it out for yourself!
Kate.moon 18:21, June 8, 2011 (UTC)
Ad blocker interference detected!
Wikia is a free-to-use site that makes money from advertising. We have a modified experience for viewers using ad blockers

Wikia is not accessible if you've made further modifications. Remove the custom ad blocker rule(s) and the page will load as expected.