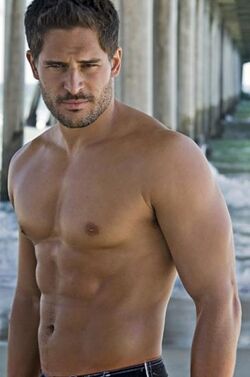 Joe Manganiello's breakout role as werewolf Alcide has caused quite a stir in the TV industry. In fact, he just landed the role of a baddie in USA's summer hit, White Collar!
Not to worry, Truebies! Joe's character will appear in January, way after True Blood ends, which means White Collar won't take our sexy wolf from us! According to EW, "Manganiello will play a villain on the show: a recently released ex con, who brings trouble to the Burke neighborhood when he moves in across the street from Peter and Elizabeth."
Looks like Joe will go from one ridiculously hot cast to another...ridiculously hot cast. We can get our share of Alcide during True Blood off-season! Does this inspire you to watch White Collar?
Ad blocker interference detected!
Wikia is a free-to-use site that makes money from advertising. We have a modified experience for viewers using ad blockers

Wikia is not accessible if you've made further modifications. Remove the custom ad blocker rule(s) and the page will load as expected.