The spoiler chat from E Online posted some very exciting and mysterious tidbits about True Blood Season 4! With less than 2 weeks (finally!) before the premiere, the surprises just keep on coming!
Maryann
The fickle Maenad villain Maryann MAY have a hand in the witches rituals in Season 4! I did not see that coming. Are witches Maryann-worshippers?? Apparently, Maryann will be returning to Bon Temps in the form of a statue!
"There is a statue of Maryann in the back room of the Moon Goddesses magic shop that features heavily in this season's witch storyline. Interesting, yes?"
Yes!
Where is Alcide going?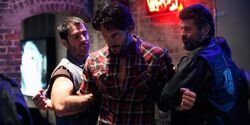 Alcide is moving, Trubies! Right into Bon Temps, or at least somewhere very close to Sookie!! OMG! Will he be shirtless in our TV all season long? Highly likely...and causing "friction" with all the vampire men in Sookie's life! Delicious! Alcide will also have trouble with the new wolf pack in town since werewolves do not seem to get along with one another...
Vigilante Bill
We have no clue what's going on with Bill. Did he have a nervous breakdown? Is he helping Nan Flanagan with her PR campaign? Or is he going rogue?? E Online reports that "Vampire Bill (Stephen Moyer) is doing a vigilante thing that's pretty hard-core, as vampire vigilante things so often are…"
Sounds mysterious and exciting!
Ad blocker interference detected!
Wikia is a free-to-use site that makes money from advertising. We have a modified experience for viewers using ad blockers

Wikia is not accessible if you've made further modifications. Remove the custom ad blocker rule(s) and the page will load as expected.