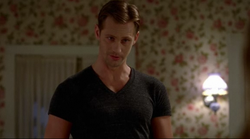 Nothing's certain in life except for death and taxes. Except that when you're dead, you still have to pay taxes...a la Eric! Poor sexy Eric; he's a small business owner who isn't exempt just because he's dead. And looks like he's the new poster boy for exemplary vampire citizens in this new, fun promo for True Blood Season 4!
In this new clip, Eric deadpans and (hopefully) charms the billions of vampire-fearing humans that not all vampires are created equal. Meanwhile, we see Jessica rebelling against the new world order by declaring that she'll feed on anyone as she prowls the clubs. Looks insanely exciting!
There's also a bit with witches, although I hope that the season focuses more on our vampires dealing with Russell Edgington fallout and sexy werewolf drama. Ever thought that the supes of Bon Temps were way too hot? The witches are lowering our show's hotness quotient!
Make sure you watch this hilarious sexy cool video and tell us what you think!
Video
Kate.moon 18:56, May 23, 2011 (UTC)
Ad blocker interference detected!
Wikia is a free-to-use site that makes money from advertising. We have a modified experience for viewers using ad blockers

Wikia is not accessible if you've made further modifications. Remove the custom ad blocker rule(s) and the page will load as expected.