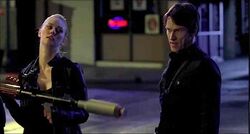 The end of Season 4 is almost near, Truebies! After last week's cliffhanger, we can only expect the altercation between the vampires and the witches to get worse. With Sookie trapped inside, how will her two lovers react?
Watch Jason defend his sister; Marnie "puke out" Antonia; and Sam's quest for revenge! I think I fell in love with Jason and Lafayette just a little bit more. It's also awesome to see Jessica so excited for her first real battle.
Watch the three individual clips at True Blood News and the promo below!
Video
Ad blocker interference detected!
Wikia is a free-to-use site that makes money from advertising. We have a modified experience for viewers using ad blockers

Wikia is not accessible if you've made further modifications. Remove the custom ad blocker rule(s) and the page will load as expected.