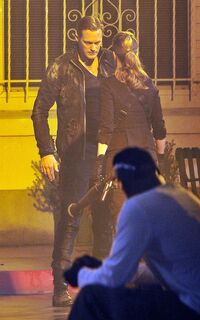 We haven't seen too much of Jessica and Eric together since since she was first made vampire back in Season 1. Looks like that might change! Check out this rather intense/action nighttime shoot for the upcoming season, courtesy of Celebrity Gossip.
The two sexy vampires are decked out in what looks like combat gear. While wearing sexy black clothing is the norm for Eric, it certainly isn't for Jessica! What could they be battling? Fairies? Witches? Humans? Let the speculation begin!
Update
I apologize for the misleading article; apparently Jessica was part of the shoot but NOT in the picture. As far as we know, the woman is Pam. On the other hand, why is she so heavily armed and what are all the vampires doing with their gear?
Gallery
Ad blocker interference detected!
Wikia is a free-to-use site that makes money from advertising. We have a modified experience for viewers using ad blockers

Wikia is not accessible if you've made further modifications. Remove the custom ad blocker rule(s) and the page will load as expected.