Comments

2
Official Synopsis for Season 4 Premiere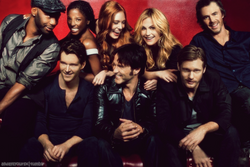 Season 4 is slowly but surely coming upon us, and the people at HBO must have heard our cries! They just released an official synopsis for She's Not There, the first episode of season 4!
Check it out: "Sookie journeys away from Bon Temps; Eric and Bill try to win back the human public; Jason learns that no good deed goes unpunished; Tara finds refuge in close quarters; Sam bonds with his own; Hoyt and Jessica debate the dinner menu; Jesus urges Lafayette to join a coven; Terry tries to alleviate Arlene's fears about the baby."
Goodness, that's a whole lot of information packed into a small paragraph! What do we know so far? Sookie's probably still in fairy land, there's a lot of problems between vampires and humans, Sam is probably with Tommy, Jessica and Hoyt are discussing the consumption of human blood (his own), Lafayette and Jesus are off being witchy, and Arlene still has her demon baby!
At least that's what I think! Speculate in the comments about what will happen to our characters in Season 4!
Source

Kate.moon 18:03, May 9, 2011 (UTC)