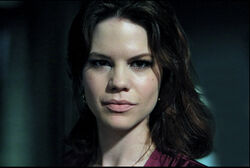 Ah, Lorena, Lorena...what to say about one of the most consistently crazy character of True Blood? Yes, she tore Bill and Sookie apart, but she was also one of the most entertaining (and stylish) people to watch on True Blood! Now that she's been permanently staked by Sookie, she'll never see the light of night again.
The beautiful Maria Klaveno recently gave an interview to Digital Spy about her role in the show and her true feelings about Bill.
Costumes
Maria's favorite part about playing Lorena? The costumes! Can't blame the woman...Lorena had such a fabulous array of costumes, from gorgeous gowns to her amazing riding outfit.
Evil or Not Evil?
She also believes that Lorena is not an evil character; rather, she is flawed and tragic: "I think the trick to playing villains is that you can't play them as if they know that they're villains, otherwise it becomes some sort of mustache-twirling caricature! Personally, I never saw her as evil. That could just be my bias because I was playing her but to her she was not being evil, she was just doing what she needed to do. She was madly in love with someone and she operated by a different set of rules and that's how I justified it for myself. In her world it's not a terrible thing to torture and kill humans. She's a vampire, it's sort of fun, that's what we do, and it was all done for the love of Bill. That's how I approached everything she did - it was always all for him. When you go from that place of intention and emotion I think the evilness kind of melts away and the words you say and actions you're doing, those take care of the evil part of it, if that makes sense."
Maria also goes on to point out that there are plenty of "evil" male vampires on the show who aren't criticized for being crazy or evil...a la Eric. It's a fair point, considering they were and could be vicious killers.
Lorena and Bill
It's such a beautiful love story! We kid...yet Lorena is madly in love with Bill, and she's just a lonely soul who desires a companion. And what of the infamous sex scene in Season 3? Highly uncomfortable and draining according to the actress...
Read the full interview and tell us what you think! Do you miss Lorena, because I sure will!
Kate.moon 18:19, May 19, 2011 (UTC)
Ad blocker interference detected!
Wikia is a free-to-use site that makes money from advertising. We have a modified experience for viewers using ad blockers

Wikia is not accessible if you've made further modifications. Remove the custom ad blocker rule(s) and the page will load as expected.