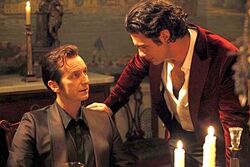 We had faith that Russell Edgington would come back since Eric and Bill merely buried him in cement. It's now officially been confirmed that Denis O'Hare will return for Season 5!
No, it's not as great as him coming back for Season 4 but with witches, fairies, and werepanthers afoot, we think Russell and his vampire-mania would be a tad too much. Do you disagree? Tell us in the comments! Meanwhile, I can't wait to see what Russell will do next; how do you top ripping out the spine of a newscaster on national television?
Source
Ad blocker interference detected!
Wikia is a free-to-use site that makes money from advertising. We have a modified experience for viewers using ad blockers

Wikia is not accessible if you've made further modifications. Remove the custom ad blocker rule(s) and the page will load as expected.