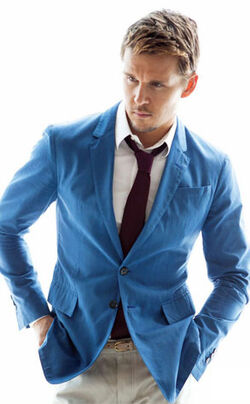 Ryan Kwanten doesn't think he's sexy? What!? While it's true that all the men of True Blood end up being hot AND supernatural- giving mere mortals some insecurity issues- Ryan Kwanten is more than the hunky human of Bon Temps; he's a bona fide sex symbol.
This month, Ryan appears in "Da Man" magazine to talk about his status as a sex symbol. How does it make him feel? According to E Online:
"It's hard to fully accept the title with complete and utter humility," Kwanten admits in the new issue of Da Man magazine. "It's obviously not my goal to have this title, but if someone wants to give it, hey I'm all for it, you know."
Aww...cute AND modest! In the interview, Ryan also talks about his physical prowess and how it's more for his benefit than showbiz. Does that mean he was always this hot? And he has an accent! Let's countdown until we can see Jason Stackhouse on our screen again! Waiting sucks...
Gallery

Kate.moon 17:27, June 3, 2011 (UTC)
Ad blocker interference detected!
Wikia is a free-to-use site that makes money from advertising. We have a modified experience for viewers using ad blockers

Wikia is not accessible if you've made further modifications. Remove the custom ad blocker rule(s) and the page will load as expected.