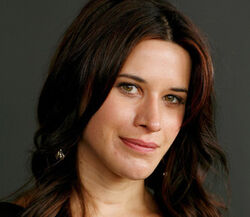 Is the Biblical temptress Salome Season 5's new Big Bad? Salome, a classical Biblical character, is getting the vampire treatment from True Blood and coming to Bon Temps as an ancient and incredibly powerful vamptress.
Italian actress Valentina Cervi has been cast to play Salome and the new lady is described as the "love child of Russell and Maryann." That can't possibly be good!
The official character description pits her as a "world-class seductress" who is fiercely intelligent but also quite mad. "She is the most powerful person in every way yet capable of hiding this power when it serves her purposes."
What do you think about the new addition to True Blood's powerful vampires? Tell us in the comments!
Source
Ad blocker interference detected!
Wikia is a free-to-use site that makes money from advertising. We have a modified experience for viewers using ad blockers

Wikia is not accessible if you've made further modifications. Remove the custom ad blocker rule(s) and the page will load as expected.