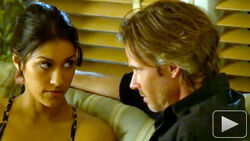 Poor Sam Merlotte has had the worst luck with ladies: Sookie who rejected his affections and ran off with vampires; troubled Tara, and Daphne who betrayed him with Maryann...who was his one-time paramour herself! Let's cut the poor, hot man some slack, True Blood!
It sounds like Sam will get another chance at love with a lady named Luna, who is also a shifter! Examiner reports that Luna will sympathize and empathize with his problems as a shifter. Could she provide him with the happiness he deserves? We do see them smooching in some promo clips!
What do you think, Trubies? Do you approve of the newest love interest or is she up to no good?
Kate.moon 18:00, June 2, 2011 (UTC)