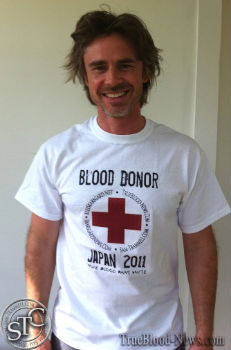 It's always great to see stars using their celebrity status for a good cause. Sam Trammell who plays our lovable shifter Sam Merlotte, graciously agreed to get involved with True Blood News and Sam Merlotte fan site to design a tongue-in-cheek True Blood shirt that says "Blood Donor." Ha! Get it?
For fans who want to be Blood Donors (I know I want to be Eric's!), 100% of the revenue will be donated to Japan's earthquake efforts! You can find more details on purchasing the shirts here: http://www.trueblood-news.com/sam-trammell-true-blood-fans-help-japan
Kate.moon 16:59, April 13, 2011 (UTC)
Ad blocker interference detected!
Wikia is a free-to-use site that makes money from advertising. We have a modified experience for viewers using ad blockers

Wikia is not accessible if you've made further modifications. Remove the custom ad blocker rule(s) and the page will load as expected.