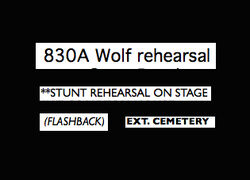 Waiting Sucks! There's just no way to get around it but here's a little tidbit for you Trubies straight from the set of True Blood.
The photo shows four clippings from a call sheet, which means those four items will be featured in a True Blood episode(s). What intrigues me the most is "Wolf Rehearsal" and "Flashback." When we hear "wolf" on True Blood, we have to factor in werewolves and well, Alcide.
As for flashback? We've been treated to flashbacks from Bill and Eric before; whose will we get next? Could it be another vampire's or perhaps one from Sookie regarding her fairy past?
What do you think Trubies? Speculate away in the comments!
Source
http://www.inside-true-blood-blog.com/blog/2011/4/21/todays-call-sheet.html

Kate.moon 18:27, April 22, 2011 (UTC)
Ad blocker interference detected!
Wikia is a free-to-use site that makes money from advertising. We have a modified experience for viewers using ad blockers

Wikia is not accessible if you've made further modifications. Remove the custom ad blocker rule(s) and the page will load as expected.