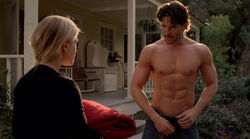 Guess who's coming to Bon Temps? More werewolves! There's a new casting call out for new werewolves for Season 5, one of which includes Alcide's father J.D, who's a prominent character in the fifth book of Southern Vampire Mysteries.
According to TV Fanatic, we'll also meet:
Marcus's mother, Annie.
Rikki, a young werewolf curious about what happened to Marcus.
A pair of "beta dogs" tasked with an interrogation of a key character.
Holly's teenage sons, Rocky and Wade.
A corrupt judge.
A dead-serious vampire named Cat.
Think J.D. will look anything like Alcide? Why do we meet Marcus's mother? It looks like Alcide may be in hot water for killing Marcus.
What do you think about the new casting, Truebies?