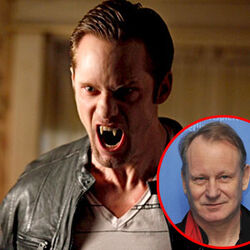 If you're a fan of Alexander Skarsgård, and really, who isn't, you already know that his father, Stellan Skarsgård is a famous actor. Recently seen in Pirates of the Caribbean and Entourage, the elder Viking recently revealed that he was asked to be part of True Blood! How cool!
Unfortunately, Stellan revealed that is he too busy to join True Blood, especially since he will be part of Girl with the Dragon Tattoo AND The Avengers! What an impressive range of films.
Although he compliments his son's work on True Blood, it looks like we won't see Papa Skarsgård in the show.
Would you want to see Alexander interact with his father on set? You tell us!
Source
Ad blocker interference detected!
Wikia is a free-to-use site that makes money from advertising. We have a modified experience for viewers using ad blockers

Wikia is not accessible if you've made further modifications. Remove the custom ad blocker rule(s) and the page will load as expected.