Comments

10
Social Updates for True Blood Season 5 Premiere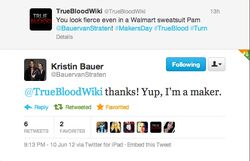 Who watched the heart-thumping season premiere of True Blood Season 5? There was a ton of action on and off screen for True Blood Wiki. Our admins and editors worked overtime to prepare the wiki and get it in top shape for Turn! Turn! Turn! and we held a live chat/Twitter party @TrueBloodWiki to talk with other fans.
The highlight of the night had to be our little conversation with Kristin Bauer van Straten @BauervanStraten who was online for the premiere. It's always nice to get our work recognized by official industry people, and I'm also happy to announce that @TrueBloodHBO follows @TrueBloodWiki!
Favorite moments of the premiere? Most shocking? Be sure to let us know!
UPDATE: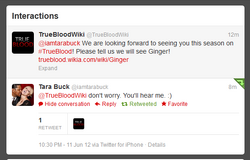 We've heard straight from Tara Buck aka Ginger on Twitter, that she WILL be returning for Season 5!! I'm sure more hilarious moments are set to come from her! Can't wait!!