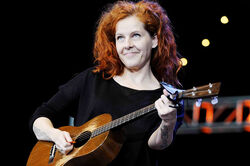 Hey Trubies!
We all know how important music is to movies and television. It's a surefire way to build suspense and influence our moods in scenes that may otherwise be quite ordinary. We now know a little bit about the music that True Blood will be featuring during the Season 4 premiere!
Nick Cave and Neko Case will be showcasing a cover for Zombie's "She's Not There" for the debut episode. They recorded it specially for True Blood alone, probably to fit the unique style and setting for True Blood. She's Not There's a very popular choice for media; it's been recently used in Glee as well!
Watch the original below and tell us if it's a fitting choice for True Blood!
Video
Source
Kate.moon 19:36, May 4, 2011 (UTC)
Ad blocker interference detected!
Wikia is a free-to-use site that makes money from advertising. We have a modified experience for viewers using ad blockers

Wikia is not accessible if you've made further modifications. Remove the custom ad blocker rule(s) and the page will load as expected.