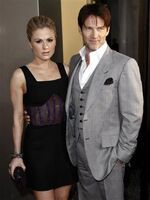 Only a few more days until True Blood Season 4 comes back to us! The glamorous stars of True Blood gathered in Los Angeles to promote their sexy new season yesterday. Check out these photos, courtesy of Klew TV! Among them are author Charlaine Harris, Evan Rachel Wood with a hot new 'do and of course, the main stars!
Sam Trammell and his pregnant wife look awfully cute together while Carrie Preston brought her husband Ben Linus, er Michael Emerson of Lost! Don't they look amazing?
Ad blocker interference detected!
Wikia is a free-to-use site that makes money from advertising. We have a modified experience for viewers using ad blockers

Wikia is not accessible if you've made further modifications. Remove the custom ad blocker rule(s) and the page will load as expected.