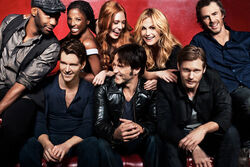 True Blood Wiki alert! For the dedicated users of the wiki, we have some exciting news for you all!
True Blood Wiki's timeline of events was cited as a definitive source for Wetpaint, a popular site for entertainment news and spoilers.
We're so excited that True Blood Wiki's hard work and amazing content is being recognized at large and wanted to congratulate everyone on their contributions.
Remember to follow @TrueBloodWiki on Twitter and Facebook for the latest updates.
Ad blocker interference detected!
Wikia is a free-to-use site that makes money from advertising. We have a modified experience for viewers using ad blockers

Wikia is not accessible if you've made further modifications. Remove the custom ad blocker rule(s) and the page will load as expected.