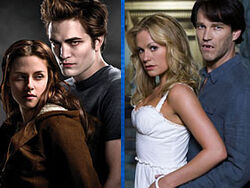 Oooh! In the ongoing debate about which hottest vampire series is the best, Elizabeth Reaser of Twilight casts her vote for True Blood!
In her interview with Digital Spy,Elizabeth, who plays the affectionate vampire matriarch Esme on Twilight, says that she's a huge fan of True Blood and finds it much sexier than Twilight! Guess whose Team she's on?
"I love True Blood! I'm definitely Team Eric. And Team Alcide," Reaser said. "I must say, I just love how he's protective of her and sweet to her. The way Bill betrayed Sookie, that was so upsetting. I didn't even expect that at all." Reaser continued: "And I love Anna Paquin. She's such an odd, cool character. It seems so completely outside of the world of Twilight. I mean, theirs is so much more sexy!"
Considering that Twilight is all about delayed gratification and True Blood is...well, all about sexy romps, no surprises there!
Ad blocker interference detected!
Wikia is a free-to-use site that makes money from advertising. We have a modified experience for viewers using ad blockers

Wikia is not accessible if you've made further modifications. Remove the custom ad blocker rule(s) and the page will load as expected.