Comments

12
Vote for "Choice Vampire" @ Teen Choice Awards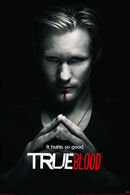 Hey Truebies! Did you know that there's a "Choice Vampire" Award at the Teen Choice Awards? It's no surprise considering that vampires are the hottest commodity in Hollywood. Along with True Blood, The Vampire Diaries and Twilight characters have been nominated for this prestigious "Choice Vampire."
Below are the nominations so let's hold our own vote for who should win!
Poll
So far The Vampire Diaries is leading the pack! If you're a teenager, be sure to vote for your favorite vampire here!!
Source