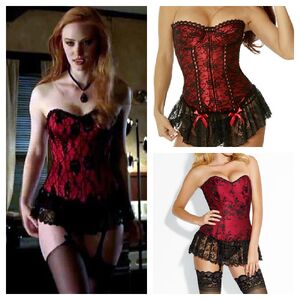 True Blood fans want to know...where can we get our hands on Jessica Hamby's sexy red and black corset? Rumor is, it's a discontinued corset from Frederick's of Hollywood, a surprisingly affordable brand!
Even if that particular design is discontinued, don't fret. There are two designs out there that are similar enough...and hey, you won't be lacking sex appeal in this corset, so I doubt anyone will notice whether it's the exact same model or just a similar one, when they're busy staring at your vampy hotness.
The corset can be found at Frederick's of Hollywood and Lingerie Diva...although personally, I can't tell much of a difference between the new Frederick's one and the one Jessica is wearing...can you?
Will you be picking up this sexy piece? Comment below and let us know!
Source: the lingerie addict
---
---
Ad blocker interference detected!
Wikia is a free-to-use site that makes money from advertising. We have a modified experience for viewers using ad blockers

Wikia is not accessible if you've made further modifications. Remove the custom ad blocker rule(s) and the page will load as expected.