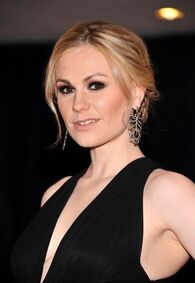 Anna Paquin (showing off her growing baby bump) attended the White House Correspondents' Dinner, along side her co-star and husband, Stephen Moyer.
Also in attendance was Aussie star Ryan Kwanten, who portrays Sookie's brother Jason Stackhouse.
The event, held at the White House, took place on April 28th, 2012.
Ad blocker interference detected!
Wikia is a free-to-use site that makes money from advertising. We have a modified experience for viewers using ad blockers

Wikia is not accessible if you've made further modifications. Remove the custom ad blocker rule(s) and the page will load as expected.