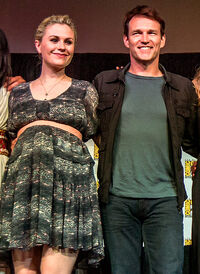 A rep for Anna Paquin and Stephen Moyer tell People that Sookie birthed their twins recently.
"We can confirm that Anna Paquin and Stephen Moyer recently welcomed their twins into the world. The babies were born a few weeks early, but are in good health and both Mom and Dad are overjoyed."
No names have been given yet, but once I find out, I will be sure to share!
Congrats!
Ad blocker interference detected!
Wikia is a free-to-use site that makes money from advertising. We have a modified experience for viewers using ad blockers

Wikia is not accessible if you've made further modifications. Remove the custom ad blocker rule(s) and the page will load as expected.