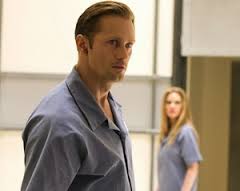 So the rumor that Alexander Skarsgard is leaving True Blood after Season 6, continues to float around. Personally, I hate to think about this- but face it, maybe we should all brace ourselves for the worse.
Recently when asked, Kristin Bauer van Straten said of Eric's departure: "It's a fear of mine for a couple of reasons."
"I love being around him," she continued, holding back her emotions.
So what do you think Trubies? Was Eric's flying away in Life Matters the end of Mr. Northman? Or maybe perhaps Eric will meet the True Death?
I'm sure most fans don't approve of either scenario!
Give us your feedback!
Ad blocker interference detected!
Wikia is a free-to-use site that makes money from advertising. We have a modified experience for viewers using ad blockers

Wikia is not accessible if you've made further modifications. Remove the custom ad blocker rule(s) and the page will load as expected.