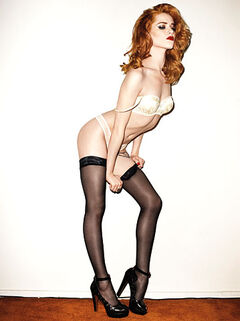 No, not Queen Sophie-Anne of Mississippi. Evan Rachel Wood isn't talking about True Blood sadly. She's commenting on her full frontal shot in the HBO miniseries, Mildred Pierce. We haven't seen the series yet, but the article itself is educational because we learn what a "merkin" is.
"I was a lot more nervous than I thought I was going to be," Wood said of the shocking scene she has at the end of the series' fifth and final installment opposite Kate Winslet, who stars as Mildred Pierce.
"I hadn't made my mind up if I was going to go full until we were rehearsing, and I was talking to Todd [Haynes, the series' writer and director] – like 'What do you think?' – and he was like, 'I think we're going to be chickening out if we don't just go for it.'"
At a New York press event for the miniseries, a retelling of the classic James M. Cain novel, Wood told us she credits Winslet, who famously bared all in "The Reader," for giving her the courage to strip. "I looked at Kate and she was like, 'You've got to do it. Trust me, it's so brave. Put a merkin on and you'll be fine.'" A merkin? "Let's just say, I had to wear a wig because it was in the 30s, and everything had to look like it was in the 30s," explained Wood with a laugh.
source: True Blood News
Ad blocker interference detected!
Wikia is a free-to-use site that makes money from advertising. We have a modified experience for viewers using ad blockers

Wikia is not accessible if you've made further modifications. Remove the custom ad blocker rule(s) and the page will load as expected.