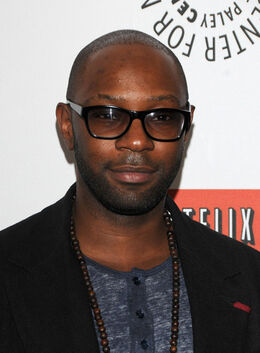 "True Blood" is gearing up for the finale of its fourth season Sunday night, and actor Nelsan Ellis, who plays flamboyant, forthright medium Lafayette Reynolds, promises that it will be one to remember -- and not just in terms of momentous events for his character and his partner Jesus, played by Kevin Alejandro.
"The finale turns Bon Temps upside down," the actor said, speaking recently by phone from New York, where he was shooting a feature film tentatively titled "Gods Behaving Badly." "Lafayette and Jesus are directly in the middle of it, and it doesn't end well. No finale in the history of 'True Blood' has been worse than this one in terms of the cliffhangers. People are going to be [upset] because they're going to have to wait like seven months before they figure out what materializes after this finale."
By the end of last week's episode, "Soul of Fire," Lafayette found himself possessed by the spirit of the recently dispatched witch Marnie (Fiona Shaw), who's more than likely to use his body to her own evil ends as she seeks to eradicate vampires not just from Bon Temps but also from the world at large.
READ FULL ARTICLE: HERE
So what do you think? Will Lafayette meet his doom, or Jesus??
Ad blocker interference detected!
Wikia is a free-to-use site that makes money from advertising. We have a modified experience for viewers using ad blockers

Wikia is not accessible if you've made further modifications. Remove the custom ad blocker rule(s) and the page will load as expected.