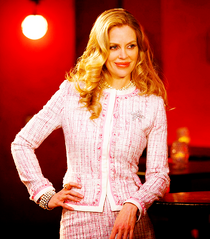 Looks like we might get to finally see a Pam flashback in Season 5!
Alan Ball is looking for two characters. A non-threatening man in his 30s and a prostitute. They will be introduced during a flashback scene in a 1905 San Francisco brothel.
As many of you know, this is the year that Pam was turned into a vampire.
In the novels she is turned in London, not San Francisco, but this could just be another True Blood change. I'm just glad we get to see ANY Pam flashback!
It is still all Season 5 speculation, but at least we have hope since it will take place in 1905!
Thoughts??
Ad blocker interference detected!
Wikia is a free-to-use site that makes money from advertising. We have a modified experience for viewers using ad blockers

Wikia is not accessible if you've made further modifications. Remove the custom ad blocker rule(s) and the page will load as expected.