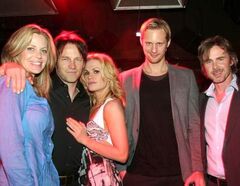 Characters who are confirmed for season 5 include:
and new face

Alan Ball has signed on to executive produce True Blood season 5.
Denis O'Hare confirmed that Russell Edgington will return in the Season 5 premiere "Turn! Turn! Turn!".
Nelsan Ellis says that we will see his lost love Jesus Velasquez again!
Scott Foley will return as Patrick Devins.
Rutina Wesley has confirmed that Tara will return!
Ad blocker interference detected!
Wikia is a free-to-use site that makes money from advertising. We have a modified experience for viewers using ad blockers

Wikia is not accessible if you've made further modifications. Remove the custom ad blocker rule(s) and the page will load as expected.