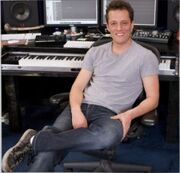 Want to know whose behind the passionate, haunting musical score of True Blood? Thought I would post a blog to focus a light on the talented composer. The person in charge of the sound score for True Blood is Nathan Barr, an accomplished music composer, who worked with Hanz Zimmer in the late 90's before striking out on his own.























Check out more on Nathan at his website: http://www.nathanbarr.com/
Ad blocker interference detected!
Wikia is a free-to-use site that makes money from advertising. We have a modified experience for viewers using ad blockers

Wikia is not accessible if you've made further modifications. Remove the custom ad blocker rule(s) and the page will load as expected.