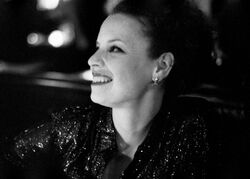 I admire Audrey Fisher's costume work on True Blood so much, that I felt she deserved her very own personal blog!
Audrey grew up sewing and making costumes, thanks to her mom who "was the best playmate". Audrey's mom took her to sewing classes and encouraged her daughter to explore the world of crafts and costumes. In college, Audrey wanted decided to study theater and attended NYU for the Performance Studio's graduate degree. While she was there, a friend spotted some "crazy hats" Audrey was making for an art class and asked if she would create the costumes for a production of Medea in the East Village. That experience hooked Audrey on "building" costumes for the theater and she threw herself into the job. Through "a fortunate series of events", after grad school Audrey went to Germany and Austria where she worked on costumes for the opera houses there, building everything from wigs to corsets to shoes. Following her time in Europe, Audrey worked in New York for a while before returning home to Los Angeles (she's from Santa Monica) to create costumes for the theater there.
Her favorite character to dress is Sookie, and Audrey prefers to make as many pieces in her wardrobe as she can because Sookie's style is so specific. As Sookie matures, falls in love with Bill, and learns more about the supernatural world, her style is subtly changing. Audrey enjoys collaborating with Anna Paquin about Sookie's wardrobe, saying that costumes "play a giant part in finding the character in any scene", so the actors are very interested in what they'll be wearing.
This season (3) we've been treated to several flashbacks as the vampire back-stories are fleshed out. Audrey enjoys the opportunity to outfit the characters with costumes from different eras, from Viking armor to sophisticated '30s evening gowns. Most of the costumes from the '20s flashback were obtained from costume houses, but Audrey's team constructed the lingerie – multiple sets – themselves since they were going to end up covered in blood. With plenty of lead time for the '30s flashback, Audrey very happily set about making all of the costumes for Bill and Lorena, including that stunning green bias-cut satin gown.

SCROLL THROUGH AND ENJOY SOME OF HER WORK!!
Source: http://true-blood.net/2009/08/07/exclusive-we-chat-with-true-blood-costume-designer-audrey-fisher/small>
Ad blocker interference detected!
Wikia is a free-to-use site that makes money from advertising. We have a modified experience for viewers using ad blockers

Wikia is not accessible if you've made further modifications. Remove the custom ad blocker rule(s) and the page will load as expected.