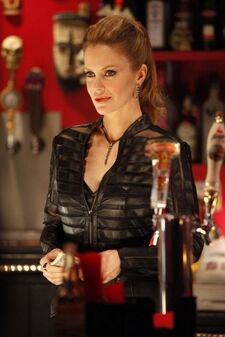 Considering the growing number of fans for Kristin Bauer (Yummy), myself included, I thought I'd share this little fun fact that many either never noticed and/or deemed themselves curious but never bothered googling it.
"Many of you will know both Kristin Bauer and Chris Bauer from the hit HBO vampire television series True Blood and it seems that it is too much of a coincidence for two people with the same surname to star in the same show. This has made many of the fans of the show to question, are Kristin Bauer and Chris Bauer related?
Well the answer is no. Chris Bauer and Kristin Bauer are not related. Chris Bauer was born in Los Angeles, California in 1966 and attended Miramonte High School in Orinda, California. Meanwhile, Kristin Bauer, who married South African musician Abri van Straten, of the group The Lemmings, was actually born Kristin Neubauer in Racine, Wisconsin.
So, while it would be great to believe that Chris Bauer and Kristin Bauer are related, the fact of the matter is, they are not. However, that does not take anything away from the fact that we love both Kristin and Chris in True BloodItalic text. You can see Kristin Bauer reprising her role as Pam and Chris Bauer reprising his role as Andy Bellefleur, when True BloodItalic text returns for its fifth season in 2012."
Ad blocker interference detected!
Wikia is a free-to-use site that makes money from advertising. We have a modified experience for viewers using ad blockers

Wikia is not accessible if you've made further modifications. Remove the custom ad blocker rule(s) and the page will load as expected.