Question?
Out of True Blood who is your Fave character and why?
This my fave character and my reason!
[[William Compton|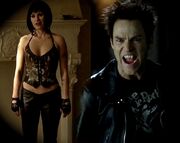 William Compton]] , because he gets to control the whole of one state.
Which is awesome, he should of been king a long time ago! Plus he gets
the girl most of the time. But he lost Sookie Stackhouse to the shrief in his
area and he is the onwer of Fangtasia which he runs with Pam and his name is
Gallary
Ad blocker interference detected!
Wikia is a free-to-use site that makes money from advertising. We have a modified experience for viewers using ad blockers

Wikia is not accessible if you've made further modifications. Remove the custom ad blocker rule(s) and the page will load as expected.