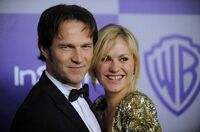 True Blood stars Anna Paquin and Stephen Moyer have married in an intimate ceremony in Malibu, California. The romance between the two stars of HBO's smash-hit series began during the first season, but the couple gave no indication to the press that they had any upcoming wedding plans.
In an interview in June, Moyer stated that they were in no hurry to get married, joking that they had "a lifetime" to plan that step. With True Blood winding down its third season the wedding can hardly be considered hasty.
According to a report by "Us" magazine, the wedding took place in a tent across from Malibu beach and True Blood co-star Carrie Preston, her husband Michael Emerson (LOST), and Elijah Woods (Lord of the Rings), were in attendance.