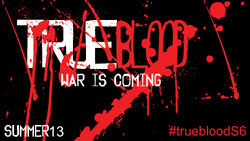 It's almost here! It's almost here!
What do you think they'll throw at us this season? We already know the writing staff is not afraid to stray from the novels, so here are some of my predictions for
season 6
:
Bill and Sookie will hook up at some point. I know, I'm predicting a slutty season for the Sookster, but for real, look at her past...
Alcide's relationship with Rikki will be ruined by his "encounter(s)" with Sookie.
Nora will be jealous of Sookie's "Eric time" and drive a wedge between them.
---
What do you think will go down in season 6?
Am I way off base?
Comment below, or write a blog of your own - and don't forget to join us here weekly for LIVE CHAT during the show!
---
Will season 6 be better or worse than season 5?
In case you haven't seen them...
---
---
Ad blocker interference detected!
Wikia is a free-to-use site that makes money from advertising. We have a modified experience for viewers using ad blockers

Wikia is not accessible if you've made further modifications. Remove the custom ad blocker rule(s) and the page will load as expected.