Much thanks
Edit
Much thanks for the edits!!! I've been swamped! :) QueenBuffy

23:23, June 14, 2012 (UTC)
Gods, there is so much, I wouldn't know where to begin! LOL Do you watch the show at all?

Oh sweet!I had no idea you were a fan! Thanks for helping in anyway possible though. It's basically just me and my admin working here, and it gets overwhelming :( We don't have nearly as much help as GoT has. --QueenBuffy 23:39, June 14, 2012 (UTC)
---
What needs to be done
Edit
Most of the main characters don't have their info updated for Season 5. I usually take, copy and paste their sections from the Episode synopsis, to the Season 5 section (makes it easier) then we just use ("Turn! Turn! Turn!") after it. I don't believe Jasons or Terry's is done. I'm sure there are more I'm just not thinking of. --QueenBuffy

23:47, June 14, 2012 (UTC)
You are TRULY a god send! Thank you! And Goodnight! :) QueenBuffy

00:00, June 15, 2012 (UTC)
Ahh!! Thank you again so much, you are a Godsend!! QueenBuffy

16:18, June 15, 2012 (UTC)
Yeah it probably needs to be done. I was just scared to take on the project- knowing we have to go back 5 seasons haha. --QueenBuffy 16:26, June 15, 2012 (UTC)
I know you stay busy on GoT
Edit
I know you stay busy on GoT Wiki, but with down season and if you feel like helping here.. I'd love to add you as an Admin. If you are interested ... QueenBuffy

17:02, June 15, 2012 (UTC)
That would be perfect. That is basically what I do for the GoT website when TB rolls around. This way you can catch spammers/vandilism for us too :) Thanks! QueenBuffy

17:18, June 15, 2012 (UTC)
Congrats
Edit
Hi Opark. congratulations on becoming a TB admin! We are very glad to have you hear, and I'm very, very gratefull for everything you've been doing. Jayden Matthews 19:42, June 15, 2012 (UTC)
Chat brief sec?QueenBuffy

23:08, June 15, 2012 (UTC)
I'm on True Blood Chat and Game of Thrones Chat if you want to talk.--Mesmermann 12:55, June 22, 2012 (UTC)
Thanks for the welcome.
I'm on the chat Mesmermann 16:12, June 26, 2012 (UTC)
I'm sure I was trying to put the Featured music at an important section not the songs themselves as headers. Sorry but I think the whole idea of having Notes as the header and more important things like bloopers and trivia below is completely distracting for the viewer. Plus I'm sure that like "Somebody That I Used To Know" th rest of the episodes you edited miss all the edits and the list of songs I made for 2 hours. What the hell with TBW admins anyway? Truebie89 (talk) 23:05, August 12, 2012 (UTC)
And more bitches too! Truebie89 (talk) 06:29, August 13, 2012 (UTC)
Yeah I could use some help/ I have no idea how to edit things
Hi Owen. I hope that you're well. With your permission, I'd like to upgrade your status to bureaucrat. Recently I've found my passion for True Blood, and this wiki to have been severely diminished, and I honestly can't see myself being much of an active administrator in the near future. That being said, someone does need to be here to maintain the site, and with bureau status you'll be able to make any future admin promotions/demotions that you feel are necessary. What do think? Jayden Matthews (talk) 14:36, August 30, 2012 (UTC)
Really glad to hear it, and thank you. Truth be told you're much better at this than me, and obviously more dedicated so it's only fair that you be rewarded for your efforts. No doubt I'll still edit from time to time, and I'll probably tune into season 6 next year, out of curiosity, if nothing else. Thanks again. Jayden Matthews (talk) 14:57, August 30, 2012 (UTC)
RE:Tristan202
Edit
No worries, though I just remembered I forgot to give him notification. At any rate, keep your eyes peeled as he's edited anonymously before, and will likely continue to do so now he's been blocked. Cheers. Jayden Matthews (talk) 14:07, August 31, 2012 (UTC)
hi, I don't have editing permission. it looks like you do.
http://trueblood.wikia.com/wiki/Vampire
In 2010, Russell Edgington ripped out the sping of TBBN newscaster
should read
In 2010, Russell Edgington ripped out the spine of TBBN newscaster
Thanks and question!
Edit
Thanks for the welcome! Do you know why Naomi's page is locked? There is an apostrophe that shouldn't be there in the first paragraph (vampire's). But no way to fix it. Thanks! Mandini76 (talk) 03:27, September 9, 2012 (UTC)
New supernatural show on ABC
Edit
Hey! You probably have heard already, but there is a pretty interesting show on ABC coming out that members of this wiki might enjoy: 666 Park Avenue. Check the wiki out and it would be great if you could let the community know about it (it looks like it's going to be really juicy though probably not as much as True Blood :))! Also, what are your thoughts about maybe getting the two wikis affiliated with each other?
Gcheung28 (talk) 23:33, September 20, 2012 (UTC)
Wikia's Fantasy Fellowship
Edit
Hey Opark!
I know Game of Thrones Wiki joined the Fantasy Fellowship, how you would feel about including True Blood as well?
Let me know!

(talk) 20:13, September 21, 2012 (UTC)
Of course! Thanks for writing the blog :)

(talk) 20:27, September 21, 2012 (UTC)
Sookie's page
Edit
I contacted the other admins, and I wanted to know can you put the pre-season, season 1, and season 3, back onto her page?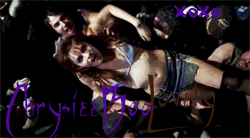 23:25, May 23, 2013 (UTC)
You want any help again? Truebie89 (talk) 22:57, June 17, 2013 (UTC)
Vampire God
Edit
I remember that there was a heated discussion on the name and the existence of this species, however, I also remember that the name has been confirmed / used in the episode "The Sun" and the fact that they are a different species is made evident characteristics exhibited by Bill. Also, if the problem is the actual name of the species you could for example add a section called "Using the term" (as for the Originals on The Vampire Diaries) and also explain other more appropriate names (eg. Vampires First-generation). I personally know many fans who are waiting for the creation of this page and even more who would be willing to write it if it was not locked - Doctor William
Hi Opark77! I know you are on hiatus, but just in case you are checking your messages I wanted to reach out! My name is Jamie and I'm a new to the Community Development team. We wanted to make a good bye to True Blood video and was curious about what you and the other admins would like to see and if you have any requests or ideas. I've also messaged QueenBuffy, but I know that she might be on hiatus these days.
I hope you are well and enjoying your day!
Alwaysmore2hear