Valentina Cervi
Talk

0
1,438pages on
this wiki
Valentina Cervi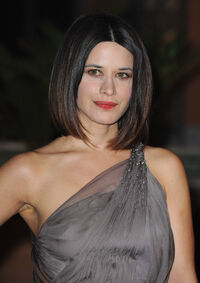 Date of Birth
April 13, 1976
Birthplace
Rome, Lazio, Italy
Valentina Cervi is an Italian actress. She portrays Salome Agrippa in True Blood. She joined the starring cast for the fifth season.
Biography
Edit
Cervi was born in Rome, Italy. She is the daughter of director Tonino Cervi and granddaughter of the famous Italian actor Gino Cervi. Cervi started her acting career at age ten in Carlo Cotti's 1986 film Portami la luna. She also played an English-language role in Jane Campion's 1996 The Portrait of a Lady.
One of her most acclaimed roles was the lead in the 1997 film Artemisia, directed by Agnès Merlet. It was loosely based on the painter Artemisia Gentileschi's life, but controversially portrayed the relationship between Agostino Tassi (played by Miki Manojlović) and Artemisia as a passionate affair rather than as rape.
In 2011, she appeared as Arianna in BBC TV's Italian detective mini-series Zen. The London Times commenting on her role as follows: "Zen (Rufus Sewell) need only walk into a Lavazzatore for [a] B-movie-rank Gina Lollo to press her amples into his chest. An interview with one courtesan [Cervi] was conducted ... with her in bra and fishnets, the interrogation interrupted by the command 'zip' as he dressed and undressed her". She also appeared as "Valentina" in Canale 5's series Distretto di Polizia in 2011.
Cervi appeared as Bertha in Cary Fukunaga's 2011 film adaptation of Jane Eyre. She was cast as the ancient vampire Salome in the HBO television drama True Blood.
Television appearances
Edit
True Blood (2012)
Una grande famiglia(2012)- TV Movie
Distretto di polizia (2011)
Notes and Trivia
Edit
Sister of producer Antonio Levesi Cervi.
Is 5'7" in height.
She is the grand-daughter of Italian actor Gino Cervi.
Attended the Discover Awards on May 31, 1997 at Epcot Center with actor, Christian Bale.
Appearances
Edit
External Links
Edit