Type of site
Anti-vampire
Created by
Concerned Citizen

Registered by
AnneMarie Hogan
Technical Admin
Donna Stalworth
Registered on
December 9, 2010
Expired on
December 9, 2014
Alexa Rank
11,371,778
(Global 09/2014)
[[:Category:{{{Images}}}|Images]]
Vamps-Kill.com was one of seventeen official companion websites that were created to complement the content found on the HBO original series True Blood.
Created by a concerned citizen, the site was used to counter the effects of the American Vampire League by showing Vampires attacking humans in horrific fashions. This was supposed to turn the American people away from accepting vampires into mainstream society.
Version 1: 2010 - 2014
Edit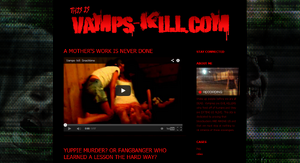 Created at the end of 2010, shortly after the series' third season, the first version of the site was stylish, yet simplistic, and colorful enough to catch the eye. The site possessed a series of pictures and videos showing vampire horrific attacks in an up close manner.
Articles are not dated, because dates aren't important when vampires do horrific things day in and day out. The vampire committing such heinous acts could appear anytime, and thus dating a particular attack was deemed unnecessary. Dates can be acquired, however, through the page link.
The site's righthand sidebar possessed four headers. "Stay Connected" never possessed anything more, but was more than likely a spot where social media links could possibly be added. "About Me" contains a blurry security camera picture of the site's author and a small description of the page. "Cases" contain two links: "Pics" and "Video". "Pics" show all pictures contained in the site's archives. "Video" show all videos contained in the site's archives. "Links" contain a link to FellowshipoftheSun.org, the official website of the anti-vampire church "The Fellowship of the Sun".
Version 1: About Me
Edit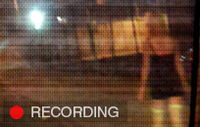 Wake up people before we are all DEAD. Vampires are EVIL KILLERS who feed off of humans and they are EATING US ALIVE. This site is dedicated to proving that bloodsuckers ARE AMONG US and that we must stop at nothing to rid America of these scavengers.
Reader Comments
Edit
For each entry selected, a spot below the article denoted a spot for "Reader Comments". The text reads:
There are no comments for this journal entry. To create a new comment, use the form below.
The form below, which never changed, read as follows:
Editor Permission Required
You must have editing permission for this entry in order to post comments.
This wasn't accidental. It was to make the site look like a standard news/blogging website although comments could never be posted. They didn't intend for comments to be posted.
News Archives
Edit
The articles below were featured on the Vamps-Kill.com website.
The articles were listed in descending chronological order, and were never sortable.
Articles are listed below. Select a year, and then a month, to access articles that appeared during those date parameters.
Page Bottom
Edit
The bottom of the page contains the standard HBO copyright of the time:
© 2011 Home Box Office, Inc. All Rights Reserved. This website is intended for viewing solely in the United States. This website may contain adult content.
Ad blocker interference detected!
Wikia is a free-to-use site that makes money from advertising. We have a modified experience for viewers using ad blockers

Wikia is not accessible if you've made further modifications. Remove the custom ad blocker rule(s) and the page will load as expected.