Mentioned in
{{{Mentioned}}}
Powers
All human abilities
Shifting into wolf form
Has shifted into
{{{Shifts}}}
Notable Progeny
{{{Progeny}}}
Notable kills
{{{Kills}}}
Cause of death
{{{Cause of death}}}
Killed by
{{{Killed by}}}
Hair color
{{{HairColor}}}
[[:Category:{{{Images}}}|Images]]
Were-Bitch, born in the 1920s in Augsburg, Germany, is an unnamed female werewolf on the HBO original series True Blood. Played by Russian actress Tamara Frapasella, the were-bitch lived in Augsburg during World War II, working as a Henchwoman for an unidentified vampire, later implied to be Russell Edgington. Were-Bitch appears only on the episode "Beautifully Broken" in the series' third season.
Personality
Edit
Biography
Edit
Background
Edit
In 1945, during World War II, an American soldier entered a house, found a woman crying in a corner and told her it was okay. The woman was naked and as the soldier began to take of his coat, the girl quickly shifted and bit the soldier on his neck- killing him. Then Eric and Godric, who were watching from the ceiling, jumped down and Godric pinned the girl to the wall. He stabbed her through her arm using the dead soldier's gun.
Seeing the two dressed in Nazi Schutzstaffel uniforms, the woman claimed she was on the same side as Eric and Godric. But when Eric saw the "Operation Werewolf" marking on her neck, he took a knife and stabbed her in her other arm. Eric demanded to know who her master was, but she said she'd only tell them if they let her drink some of their blood. Godric was deeply offended by the idea, as vampire blood is sacred. Eric, however, didn't care.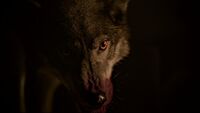 She then revealed that her master was a vampire, leaving Eric shocked. She took advantage of this distraction, and attempted to stake him. Thankfully, Godric intervened and snapped the were's neck. ("Beautifully Broken")
Appearances
Edit
Season three appearances
"Bad Blood"
"

Beautifully Broken

"
"It Hurts Me Too"
"9 Crimes"
"Trouble"
"I Got a Right to Sing the Blues"
"Hitting the Ground"
"Night on the Sun"
"Everything Is Broken"
"I Smell a Rat"
"Fresh Blood"
"Evil is Going On"
Ad blocker interference detected!
Wikia is a free-to-use site that makes money from advertising. We have a modified experience for viewers using ad blockers

Wikia is not accessible if you've made further modifications. Remove the custom ad blocker rule(s) and the page will load as expected.