Witch
Talk

0
1,109pages on
this wiki
"There can't be peace, until there is justice. For me, for Antonia, for all the women you tortured and burned for centuries, all to repress the magic that was older and more powerful than your very existence!"
―Marnie Stonebrook to Bill and Eric
A witch is a person with the power to effect changes in  reality by Magical means ("Witchcraft"). A witch can be either male or female, as they connect with the elements and forces of nature, in order to practice sorcery.
Description
Edit
Humans who practice magical powers are called "witches". The origin of witchcraft remains a mystery, however according to Marnie Stonebrook, magic has existed longer than vampires, and dates back to the beginning of the Earth itself. Since then, witches have existed for many centuries, passing down their knowledge and skills through generations in family lines. Contrary to popular belief, witches do not receive their powers from demons, nor do they worship the Devil. Instead, many witches inherit their magic from nature and may practice their powers however they choose.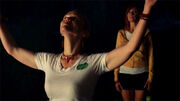 In Wicca and other similar forms of modern Neopagan beliefs, a coven is a community or gathering of witches, a group of believers who gather together for ceremonies of worship, such as Drawing Down the Moon or celebrating the Sabbaths.
Almost anyone is capable of becoming a witch, however one must harness the spiritual energy and supernatural forces that surrounds them in everyday life. Although the majority of witches receive their magic from a Higher Power, natural born witches receive their magic through genetics, which often begin to develop during their early childhood.
Season 3
Edit
Holly Cleary is the first witch introduced in the series. Holly explains to Sam that she is a Wiccan and offers him a herbal remedy to cure his stress. Later, Holly assisted Arlene by casting a magic circle to help rid her of her baby. Later in the season, Jesus Velasquez admits to Lafayette Reynolds that he is a brujo.
Season 4
Edit
Jesus Velasquez and Lafayette Reynolds visit a local coven in Bon Temps and Shreveport. After Lafayette reluctantly joins the coven, he instantly completes the circle. When the leader of the coven, Marnie Stonebrook begins to use her magic (she gained from Antonia) to control vampires and kill them, most of the people in the circle begin to leave after Marnie becomes obsessed with power and not only killing vampires, but humans as well.
Holly Cleary briefly mentions to Andy Bellefleur that she's a witch. ("Whatever I Am, You Made Me")
It's later revealed that an Iraqi witch Zaafira has cursed Terry Bellefleur because he was forced to shoot her by his friend Patrick Devins. Terry tells Arlene of the curse and she believes that Terry is going insane. She and Holly convince Lafayette to hold a fake seance with Terry and Patrick present and pretend that he has summoned Zaafria's ghost and that she has revoked the curse, however, Zaafira's ghost actually comes to Lafayette and tells him that Terry must kill Patrick or vice versa and she will take the curse off. ("Somebody That I Used to Know")
Magic (or Witchcraft) is the power to effect changes by magical means. Magic can often be split into dark and light, though depending on the situation can also be neutral. Magic is both a genetic heredity and a studied technique that connects a person to the elements and forces of nature in order to practice witchcraft.
Depending on their level of skill, witches possess a number of magical abilities. While beginner and average witches (like Holly and Marnie) focus their powers through the use of incantations and rituals, more advanced and powerful witches(like Antonia) have been known to use magic by sheer force of will.
Channeling: The act of drawing and invoking extra forms of energy by focusing on celestial events.
Conjuration: The act of calling, commanding, or summoning a certain object, person, and/or spirit already in existence.
Elemental Control: The act of controlling and manipulating the elements of air, earth, fire, water, and weather.
Levitation: The act of floating, flying or rising ones body in the air by supernatural means.
Spell casting: The act of changing and/or controlling events through the use of charms, hexes, rituals, etc.
Telekinesis: The act of controlling and manipulating the movements of objects and persons by mental influence.
Witches Brew: The act of brewing and concocting paranormal elixirs that contain supernatural properties.
Spiritual sensing: The ability to feel spiritual activity.
Known Witches
Edit
See also
Edit